Echo Magazine
Issue 1
2019 Silver ADDY Winner


How might we approach the young people in our lives about climate change without causing nightmares and fear?


Problem Statment - Echo Magazine

"More than half of Americans think global warming will harm people in the U.S. (59%), people in developing countries (64%), the world's poor (64%), future generations of people (69%), and/or plant and animal species (71%)."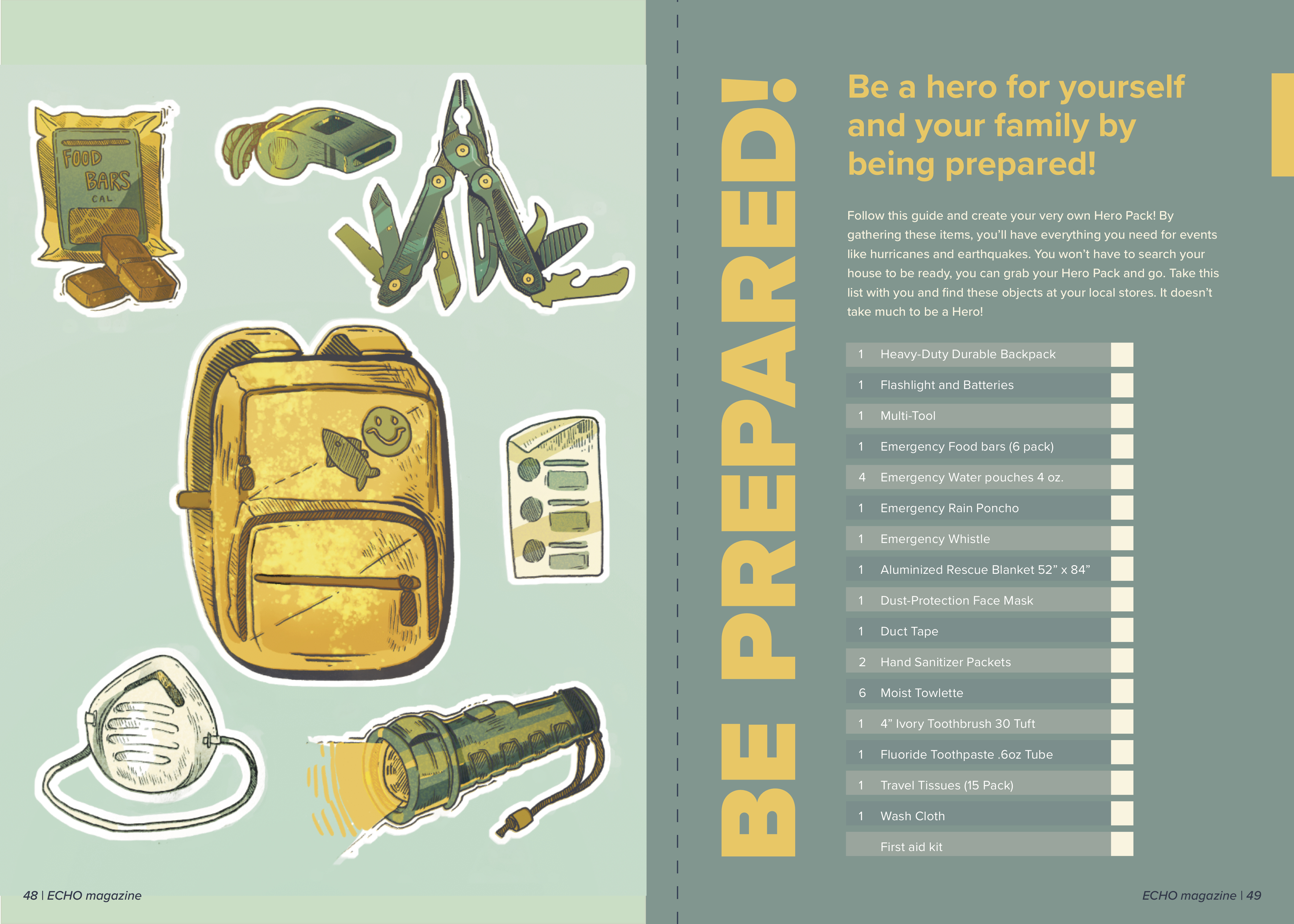 100

Pages
200+
Illustrations



24
Comic spreads
12
weeks
Time Frame.

12 weeks.
Client. Seattle Central Creative Academy (school project).

Roles.
Layout, branding, illustration, writing (introduction), typography, production.
Tools.
Adobe Indesign, Adobe Photoshop, pen & ink.

Problem.
Conversation about climate change is everywhere. It's on the news, radio, social media, and woven into our social culture. With good reason. The changing environment poses an overwhelming challenge for future generations. How might we approach the young people in our lives about climate change without causing nightmares and fear?

Solution.
A comfortable platform for guardians and teachers to sit down with young folk and open a conversation that inspires positive action. Educating through storytelling.
Background. Designing a magazine that's a fun masterclass and toolkit.

This magazine concept brings awareness to the danger of extinction - both animals and their habitats, everyday habits you can practice to make a positive impact, and highlights on organizations that are taking action on these issues. The target demographic is a younger audience, between 6-14 years old, and presents the topic in an approachable way with fully illustrated spreads.

For this project, we were given full freedom to select a topic. I selected this subject because it's a valuable outlet with a frequently voiced need.



I was given 12 weeks to design the magazine cover to cover, with frequent feedback from instructors and peers.

Volume one is a "masterclass" of basic concepts. Future volumes would dive more specifically into climate change issues through a closer lens. This volume is broken into 7 chapters: an introduction, forests and the Amazon Rainforest, animals and extinction, the ocean and aquatic life, a short story, how to get involved, and finally food and gardening. Activities include coloring pages, emergency supply checklist, animal trading cards, and tips on starting your own garden.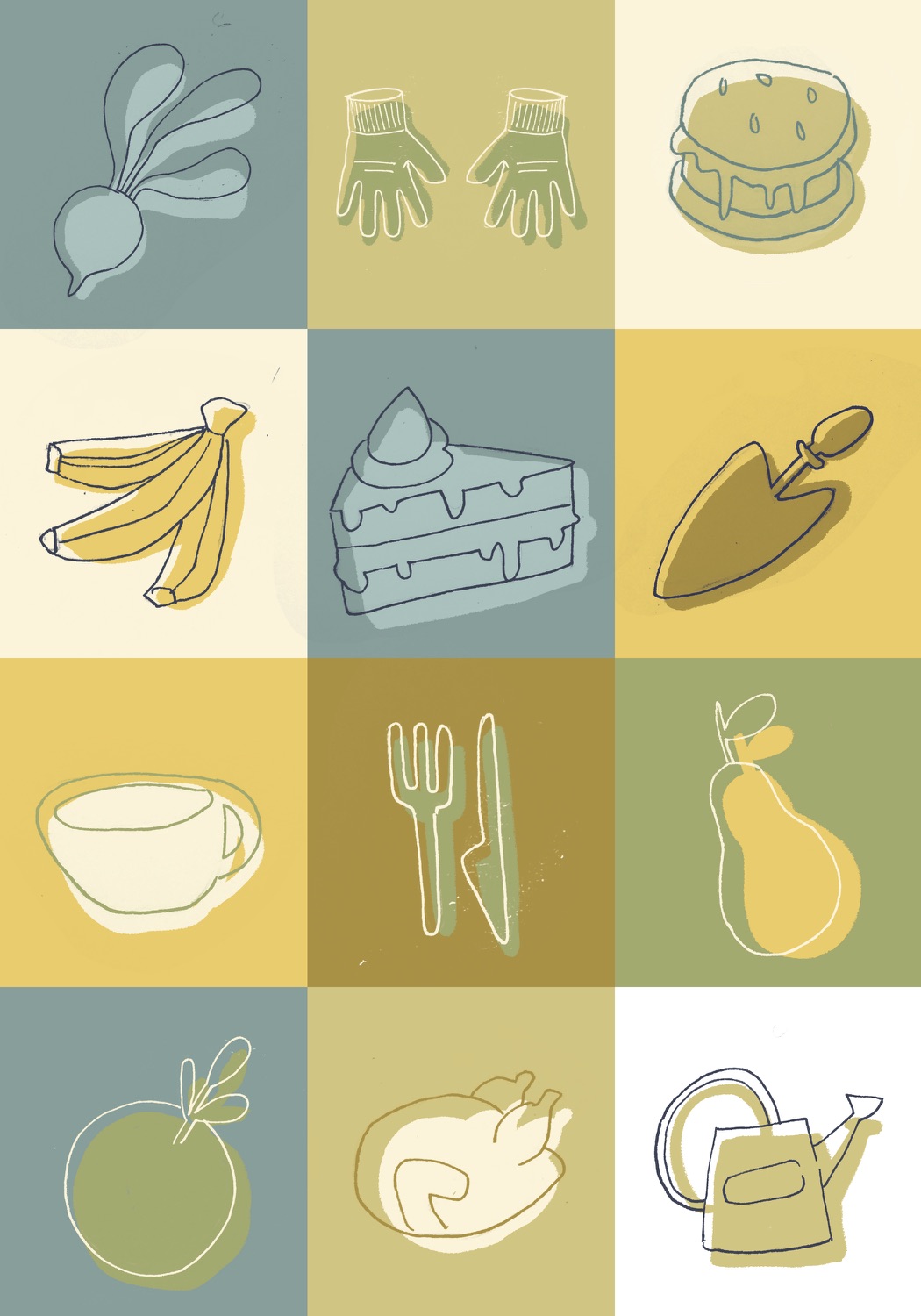 Process.
1. Reseach
2. Curation
3. Visual design
4. Production
1.
The first step was research. Who was the user? Who would benefit from the magazine? Why would they read it? How would they interact with it? These questions guided the content and style of Echo Magazine. I gathered my answers through desk research and interviews with parents, teachers, and environmentally conscious folks.

My biggest takeaways included illustration as a powerful tool in communicating scary topics, and that animals being affected by climate change was an easier introduction than humans being affected.



2.

With this in mind, I began curating articles - organizing them into 7 themes that were later sorted as chapters.
Next, I began laying the articles into a flatplan. This let me estimate the amount of pages and illustrations I would need, as well as grid structures and layout. In this time, I also wrote and storyboarded my short story - a set of 26 fully illustrated pages.

I organized the articles by chapter, writing my own introduction and first chapter followed by curated articles.


3.
Once I was finished curating, I chose a body copy and headline font, vetting the type size and legibility with my peers. I chose Proxima Nova for it's simple, easily read letterforms and set it at 11pt for comfortable consumption.






The next phase was developing the brand. For color, I selected tones that were engaging and friendly, but not seering vibrant. In my research, teachers and parents commented on the abundance of bright content that made reading less enjoyable for them. Echo Magazine is designed as a conversation between guardians/teachers and the young ones in their lives, so I kept both sides in mind.


4.
Next, I began following my illustration schedule and grabbed out the sketchpad. Keeping the style consistent, I drew each element by hand with pen, and then scanned in and colored in photoshop. The end result is a hand touched look that doesn't look overprocesses or artificial - tying into the friendly voice of the magazine.

Once I had a suite of illustration assets, I plugged them into an InDesign file suitable for a standard printing order (7 x 10). To export the files in a booklet form compatable with our printer, I exported them as PostScript files from indesign and processed them into a PDF with Adobe Distiller.

Once printed, the pages were clamped, scored, and glued to create a sturdy booklet.


Initial flatplan.


Collection of illustration assets.
Storyboard and final comic spreads.
Here's a peek at what you'll find inside!
Echo magazine contains 200+ hand drawn illustrations, here are a few favorites.